Unity CARES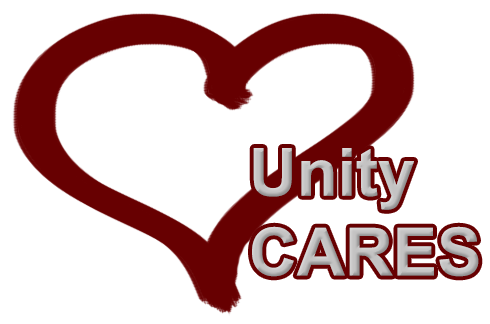 The Town of Unity is a caring and inclusive community- we are proud of the many organizations that work to improve the lives of our residents.
UNIFIED UNITY
We want to hear about interesting individuals who were born, lived, or died in Unity. Nominate someone for a Unified Unity spotlight.
UNITY COMMUNITY RESOURCE CENTRE
The Unity Community Resource Centre (UCRC) is located at 210 Main Street and is open Mondays 9 am to 12 noon and 1 to 5 pm, and Tuesday to Friday from 1 pm to 5 pm. The Centre houses New To You Clothing and the Unity Food Bank, provides computer access, maintains a community bulletin board with updated Unity job postings and items for sale or give away, provides printing and faxing (for a fee), as well as brochures on topics such as parenting/nutrition/mental health/addictions. Call 3062284042 or visit the UCRC on Facebook.
UNITY FOOD BANK
The Unity Food Bank is located in the UCRC. Contact Tomi or Terry at 3062288287 or Kevin or Chris at 3066216031.
KC RESCUE
KC Rescue operates a cat rescue shelter at 401 7th Avenue East in Unity, adjacent to the Richardson Outdoor Recreation Park, between the Credit Union Aquatic Centre and the Unity Community Centre. Rescuing over 800 cats since it's inception, KC Rescue requires donations and volunteers to operate, and families to foster or adopt the rescued cats. To learn more visit their website or on Facebook.
UNITY COMMUNITY DAYCARE
This licensed 20-space daycare is located at 264B 2nd Avenue West in Unity. Visit them on Facebook.
UNITY HOUSING AUTHORITY
The Unity Housing Authority, on behalf of Saskatchewan Housing Corporation, provides affordable housing options to the residents of Unity. For an application form click HERE. Contact Jim at 3062109290.
UNITY COURTESY CAR
Located at #2-113 Main Street, the Unity Courtesy Car and their volunteers can assist you by providing an affordable car ride within Unity. Call 3062283700.
UNITY HANDIVAN
The Unity Handivan can provide accessible and affordable rides within Unity. Call the Director of Culture, Parks and Recreation at 3062282621 ext 2.
UNITY PARENTS AND TOTS
Parents and their children (ages 0-4) meet weekly to visit and play. Contact Carin at 3062609316.
SECRET SANTA
Secret Santa will accept gifts of unwrapped new toys, teenage gifts, adults gifts, or donation of money to make Christmas a happier time for several families in Unity. Contact Bea at 3062282494 or Lois at 3062283231 to submit family names, for more information, or to find out how to volunteer.
UNITY LIBRARY
The Unity Library is located at #4-100 1st Avenue West (next the the Town Office). Hours are Monday 9 am to 1 pm, and Tuesdays and Thursdays 1 pm to 9 pm. Call 3062282802 for more info or to arrange curbside pickup.
UNITY KIDSPORT
Kidsport can provide Unity families up to $750 per child per calendar year to assist them with the registration fees to participate in sport in the Town of Unity. Click here for an application form.
UNITY'S FAITH COMMUNITY
The Town of Unity has a strong faith community to meet the spiritual needs of our residents:
St. Peter's Roman Catholic Church- Father Gregory Roth- Sunday Mass 11 am - 3062284536
Unity Anglican Church- Sunday Service 10:30 am- Valerie at 3062284536
Unity United Church- Minister Gary Johnson- Sunday Worship 11 am- 3062284595
Unity Baptist Church- Pastor Ron Rutley- Sunday Worship Service 10:30 am- 3062282156
Unity Lutheran Church- Sunday Worship Service 10:30 am- 3062282280
PRAIRIE BRANCHES
Prairie Branches provides services and opportunities to people with special needs, operating two group homes in Unity, as well as an activity centre at 204 Main Street. Visit their website.