Unity & District Heritage Museum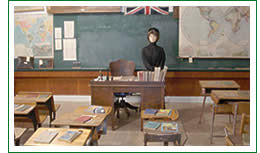 Occupies the north part of the Regional Park and features restored schools, a church, one of the original early homes of Unity, CP Rail Station and has two large quonsets full of restored cars, trucks, a steam engine, and a threshing machine. View the Museum website.
About the Collections
30 buildings and monuments, some furnished with artifacts plus several tractors, farm machinery and engines
History of Buildings
Adanac Hall - built in 1910. Masonic Hall upstairs since 1911.
Adanac School - SD #2210. This school was built in 1950. Our OFFICE is located within plus our one-room school display.
Adanac Church - St Thomas Anglican Church was built in 1908.
Blacksmith-s Shop- A granary now used to repair machinery/displays.
Centennial Pole Shed- Built in 2005-06 to display machinery.
CPR Station- Built in 1909 and located 2 miles north of Unity.
Eastbank School - SD#3525. Built in 1915 on SW 29-41-23-W3.
Harness Shop - Built by George German, houses shoe and harness artifacts.
Horsman House - Farm house built in 1911 by David Horsman, 1906 pioneer.
Millennium Time Capsule - Built by Masons/ metal fabrication by Hutterites in 2000, to be opened in 2050.
Pete Craig Stone House - Built between 1906 & 1914, dismantled and rebuilt by Jake and Yvonne Nickel. Clay oven built in 2000.
Robertson House - Originally located at 201-4th Ave W, built in 1912.
Rosemary School Barn - Built in 1919 on NE-3-40-23, used for storage.
Soddie - Built in 2006 by Zunti family, replica of Zunti soddie.
Swarthmore United Church - Built in 1926 by Society of Friends, Methodists and Presbyterians.
Human History
Agriculture
Costumes and Accessories
Furniture or Furnishings
Household Objects or Domestic Technology
Maps, Charts, Plans or Blueprints
Medical History and Technology
Memorabilia
Military History and Technology
Musical Instruments
Sports Equipment
Local History
Research Services
Conservation or Restoration
Visitor Services
Guided Tours
English
Meeting Room Rental
Parking Facilities
Free
Special Needs Facilities
Parking
Washrooms
Wheelchair access
Volunteer Services
Volunteer Services Available
Volunteer Training Offered
Number of volunteers: 32
Food Services
Picnic Area
Reception Facilities
Hours & Admission
Open Mid-May to October 2-5 p.m. 7 days a week
Adanac Hall Rental
All day Hall & Kitchen- $125
Part Day Hall- $85
Less than 3 hours Hall- $35 (Meetings only)
Church- $50
Address
Unity & District Heritage Museum
Unity Regional Park
(located in north end of the park on north side of 7th Avenue East), Unity, Saskatchewan
PO Box 852, Unity, SK S0K 4L0
Telephone: 1-306-228-4464
Fax: 1-306-228-2149
Visit a page of Historical Unity Photos